Even though the spring is upon us and summer is not far off, it's still a great time to treat yourself to a hot tub at home.
In fact, you can often find the best bargains and the most attractive pricing when you're shopping for tubs at this time of year.
If you don't have the space or the budget for a permanently-installed hot tub, we've got the next best thing for you today. We'll be showcasing the 10 best inflatable hot tubs, all capable of delivering the most relaxing experience without you needing to head to the spa.
The inflatable nature of these things makes them much cheaper than a permanent set-up. This is much the same as you'll find above-ground pools and inflatable pools are much cheaper than in-ground alternatives.
While all of the many models on the market look broadly similar, you'll find a great variety in functionality and performance. We're here to simplify that process for you today.
Before we get down to business with our inflatable hot tub reviews, then, a few pointers to consider on the buying trail.
Inflatable hot tubs are less expensive than a permanent model, thanks to their inflatable nature. It also makes them easier to install and move around if the need arises. There are a lot of models out there, and while they may look the same there are a lot of differences. Price, size, jets, and lots of other key features can vary quite considerably. Here are our top picks for the best inflatable hot tubs, as well as some things you should know before you buy.
Ease of installation: First and perhaps most importantly, you should look for inflatable hot tubs that you can have up, running, and ready for water in around thirty minutes. All of the models we review today perform strongly in this crucial area. If you stray from our shortlist and opt for a hot tub we don't review today, make certain it's straightforward to install
Capacity: Make sure you buy a hot tub that's large enough to accommodate the whole family, or as many people as you feel are likely to use it on a regular basis. If in doubt, go larger
Maneuverability: Once you've emptied out your hot tub, you want it to be easily maneuverable. Most of the best models out there come equipped with handles on the top to streamline this
Jets: The number and quality of jets on inflatable hot tubs varies significantly. Read plenty of user reviews to get a good overall idea of performance
Seating and comfort: Rounded or squared corners both work well for providing a ledge to rest on. Make sure any hot tubs on your shortlist offer a comfortable seating environment with a soft bottom
OK, with those basics in place, you're perfectly positioned to explore out reviews of the top 12 inflatable hot tubs.
---
The 12 Best Inflatable Hot Tubs
1.

Our #1 Pick:

 Coleman SaluSpa Inflatable Hot Tub
Features
4 to 6 adults
Round
77 x 77 x 28 inches
Coleman's SaluSpa gives you a great alternative to a permanently installed hot tub. Set up couldn't be easier. You won't need to mess around with any tasky installation. You won't require any tools or expertise either. Just inflate the hot tub using the pump provided and you're good to kick back after a hard day at the office.
Made from an I-beam construction with rugged PVC layered over the top, you shouldn't experience any loss of rigidity over time. As long as you keep on top of simple maintenance, you can expect plenty of faithful service from this hot tub.
Equipped with lifting handles, this is a reasonably maneuverable unit making for a super-flexible solution.
Capacity is generous with space for between 4 and 6 adults.
You can tweak the water temperature up to a maximum of 104F, giving you a warm and relaxing environment ideal for settling in with a glass of wine or a good book.
Take control of the temperature as well as the intensity of the water jets using the simple but effective digital panel. You won't need any tech skills to operate this hot tub, and you'll enjoy a rewarding experience.
You can also take advantage of a timer to manipulate the water temperature up to 72 hours in advance.
When the tub is not in use, there's a cover supplied to help you keep as much debris as possible out of your new investment.
While almost all user review heavily praise this model, we found some scattered complaints about quality control. We would suggest checking the contents of your package closely upon arrival.
After the stressful year this has been, why not treat yourself to this fantastic inflatable hot tub for the coming summer?
Things We Like
Things We Dislike

Massage system
Tool-free assembly
Chemical dispenser for chlorine

Some reported issues with quality control
---
2. Intex PureSpa Inflatable Hot Tub
Features
4 adults
Round
57 x 77 x 25 inches
Intex is a household name in the swimming pool space. They continue that excellence with this highly effective inflatable hot tub.
There are two sizes of this tub available, this one being the smaller version with room for up to 4 adults.
Looking subtle and understated in dark blue, you can have this tub up and ready for water in around 20 minutes. Deflating it is just as quick and easy, making this a great portable solution without the financial commitment attaches to a permanently-installed hot tub.
The comprehensive package includes absolutely everything you need to get going right out the box.
With a hard water treatment system baked in, you won't find your skin irritated by the water as happens in some cheaper and less effective inflatable hot tubs.
When you slip into this tub, you'll be surrounded by a class-leading 140 bubble jets creating a soothing and relaxing environment. If you have a stressful and hectic lifestyle, disconnecting for half an hour in this tub could be just what you need to rejuvenate you.
A pair of contoured headrests allow you to relax even more fully as those jets pummel the tension out of your body.
With color-changing LED lights built in, you can create mood lighting to suit.
Made from a triple-ply laminated material, you should get plenty of use out of this hot tub without any premature wear or damage ruining the experience. Build quality is as you would expect from Intex.
Surprisingly for a company of Intex's stature, customer service has a poor reputation. If you run into any problems, pack plenty of patience. When it comes to user reviews of the hot tub itself, we found predominantly positive feedback with no serious complaints aside from those gripes about customer care.
Things We Like
Things We Dislike

140 bubble jets
Ready to use in 20 minutes
Easily navigable controls
---
3. Coleman SaluSpa Hawaii Square Hot Tub
Features
4 adults
Square
71 x 71 x 28 inches
Next up comes another entry from the inimitable Coleman in the form of the Hawaii, a neat square inflatable hot tub ideal for year-round relaxation.
This inflatable tub is a square model with space for up to four adults, measuring 71 inches across.
The water heats up rapidly to a maximum of 104F, so you'll have a comfortable environment year-round, even if the temperature outside is chilly.
There's a pump included, and you'll have this hot tub inflated and ready for water in less than thirty minutes.
Push a button and activate the jets, with 114 of these pummeling your body with a massaging pulse of water to take all your cares away.
The walls of this tub are made from multiple layers of TriTech, a robust material that should return plenty of service. That said, a few users complain about lifespan with this unit. It's always difficult to quantify claims like this without knowing how the hot tub was treated. Look after the Coleman and you should have no issues.
Once you've emptied the tub of water, you can easily shift it around using the handles built in.
The cord length is slightly short at 12 feet, but this is one of the few complaints we can level at this strong contender for best inflatable hot tub on the market aside from the issues with lifespan.
Things We Like
Things We Dislike

Heats rapidly to 104F
114 jets
Triple-layered walls
---
4. Intex PureSpa Portable Bubble Massage Spa
Features
4 adults
Round
77 x 77 x 28 inches
Next up comes another first-class hot tub from industry giant Intex. How does this tub stand out, then?
Measuring 77 inches across, you have space for up to four adults in the tub, so you can invite friends over or relax with your partner and the kids. This is a very flexible tub ideal for all ages.
The rounded shape looks great on the decking or in the yard, and the muted tan and white finish injects a touch of class in a space marred by many unattractive hot tubs. While you're not buying a tub primarily based on aesthetics, design plays a critical role in the buying process. After all, you wouldn't want to show off a garish or ugly hot tub, would you?
There's capacity for over 200 gallons of water in this tub, and you can heat it from 68F through to 104F at the upper end. Create the perfect environment for everyone to relax in.
Built into the hot tub is a treatment system that serves to soften hard water and gives you a spa-like environment without needing to set foot outside your home.
There's a useful cover included here, so you'll prevent heat loss and evaporation, while also stopping any falling debris from cluttering up your tub. The tub is lockable, too.
You get a pair of filter cartridges thrown in to help you keep your water pristine and debris-free with the very minimum of maintenance.
As you would fully expect from Intex, you're getting one of the best inflatable hot tubs on the market, even if you need to dig fairly deep for the privilege.

Things We Like
Things We Dislike

Hard water treatment system
Filter cartridges
Cover and lock
---
5. Intex PureSpa Greywood Deluxe Inflatable Hot Tub
Features
6 adults
Round
85 x 85 x 28 inches
Next up comes another entry from the highly reputable Intex. Just like with their swimming pools, you know you're getting an elevated level of quality when you invest in this inflatable hot tub.
This is one of the largest inflatable tubs you'll find in this class. Measuring fully 85 inches across, you get space inside this thing for up to 6 adults.
As with all Intex inflatable hot tubs, you can expect to lash this unit together in no more than 20 minutes. You won't need any tools and you won't require any DIY expertise either. Top up the tub and you're good to go.
The Intex excels when it comes to the number of jets, too. 170 of these high-powered jets will provide a gloriously relaxing environment. This gives you 50 more jets than the standard spa model in this line and a truly decadent tub ideal for lingering in for hours.
The Fiber-Tech build ensures this tub won't fall apart during the first season of ownership.
There is a nifty water conditioning system to keep hard water from causing calcium to build up, prolonging the lifespan of your pool gear while simultaneously improving the quality of the water.
The color-changing LED lights inject some atmosphere when you're enjoying some tub time in the evening.
With a cover and thermal ground cloth thrown in, you're getting enormous value for money here and one of the best inflatable hot tubs you can find.
Things We Like
Things We Dislike

170 water jets
Baked in hard water system
LED lighting

Problems with customer service
---
6. Bestway SaluSpa Miami Inflatable Hot Tub
Features
4 adults
Round
71 x 71 x 26 inches
Next in line comes the classic SaluSpa Miami from the Bestway Store.
This tub has a 71-inch diameter and the capacity for up to 4 adults, giving you something for all the family here.
The 9-foot cord could be lengthier, so make sure this gives you enough room for comfortable installation without needing to reach for an extension cable.
Installation couldn't be easier, though. You'll be ready to fill the tub with water in as little as 20 minutes, with no hassle and no tools required.
With a power-saving timer onboard, you can manipulate the temperature up to 72 hours in advance, cutting down on wasted energy heating an unused tub. As an added kicker, when you're ready to climb in, the water will be heated up to a maximum of 104F.
The only proviso with temperature is that the spa is not suitable for use when the mercury falls to 39F or below. That said, when it's as cold as that, it's highly unlikely you would feel like a dip in the hot tub anyway.
There are 120 jets to provide a bubbly and chilled experience when you're kicking back after a busy day.
User reviews of this inflatable hot tub are mainly positive. The complaints we encountered center on the build quality and lifespan of the tub.
Once you've finished with your hot tub, it can easily deflate and store in a small space. The lift handles on top of the unit make it easy to move around, too.
Overall, while this might not be the flashiest or the most expensive inflatable hot tub, it's still well worth a place on your shortlist.
Things We Like
Things We Dislike

Robust massage system
Heats water to 104F
Digital control panel

Not the most rugged build
---
7. Intex PureSpa Plus
Features
6 adults
Round
33 x 24 x 20.5 inches
If you are tempted to invest in an inflatable hot tub, swimming pool specialist Intex has a deep bench of suitable candidates, including this medium-sized round spa ideal for the whole family.
The tub is finished in a subtle navy blue, so it should make a neat fit in most yards.
Thanks to the integrated inflation system, you'll have this tub ready for water in a flash. Once you top it up, the Intex brings the water up to a comfortable 104F, the industry standard for hot tubs. In order to hit this maximum temperature, the outside temperature should be at least 50F.
One of the primary benefits here is the powerful but relaxing bubble massage delivered. There are 170 independent bubble jets to soothe away your worries after a hard day at the office.
Using the tub couldn't be easier. The tiltable digital control panel requires no tech skills to use, and it's hardwearing enough to last the distance.
You can also control the color-changing LED lights baked in, further enhancing the ambiance in your yard.
Made from a robust and puncture-resistant  triple-ply laminate, you should get years of faithful service from this inflatable hot tub if properly maintained. The Intex is a great option for anyone who wants the indulgence of a hot tub at home without a permanent installation on the deck.
Things We Like
Things We Dislike

170 bubble jets
Pair of contoured headrests
Heats water to 104F

Customer care concerns raised
---
8. Coleman SaluSpa Havana
Features
2 to 4 adults
Round
28x 24 x 21 inches
The Coleman SaluSpa line is a bestseller worldwide and with just cause.
The Havana is a smaller tub intended for between 2 and 4 people, but the inbuilt benefit of this reduced capacity is the compact footprint of this tub. You could easily set it up in a smaller garden without it dominating the space. As with all inflatable hot tubs, you can then simply deflate it and stash it when not in use if space really is too tight to mention.
You'll get all the accessories required to get going right out the box.
Once you're up and running, it is seamless and intuitive to control this tub. A simple remote allows you to take charge of the massage function, pump, and temperature, giving you everything you need at your fingertips.
You can set the water temperature several days in advance, allowing you to cut down on running costs.
This inflatable hot tub is designed for outdoor use, and the construction is such that it won't fade in the sunlight.
If you are looking for a home hot tub but you're not convinced you have the room for a permanent set-up, the Coleman SaluSpa Havana is hands-down one of the best inflatable hot tubs you'll find.
Things We Like
Things We Dislike

Everything you need is bundled
Digital control panel
Energy-efficient

Takes a long time to heat up
---
9. SaluSpa Hawaii  Pro Inflatable Hot Tub
Features
4 to 6 adults
Square
77 x 77 x 28 inches
As we edge to the end of our inflatable hot tubs reviews, we have another iconic SaluSpa, this time the Hawaii. What do you get for your money here, then?
Finished in a subtle gray, you'll get an inflatable tub that looks like the next best thing to a permanent installation rather than a cheap and unattractive add-on to your yard.
Onboard you get 8 hydrojets working alongside 114 air jets. This leads to a soothing stream of water directed at the walls of the tub, along with a soothing flow of air bubbles for a spa experience without leaving home. These jets are fully adjustable so you can create the hot tub environment of your dreams.
You'll benefit from a chemical dispenser that evenly distributes chlorine to keep your water sanitized at all times.
The pump included not only inflates the hot tub when you're ready for action, but it also helps regulate the filtration system. The pump also serves to heat the water making it an all-round powerhouse. You also get all the accessories you need included for a bumper-value pack.
The beam construction ensures the frame of this tub is rigid and built to stay the distance. Draped over the top of this comes triple-layered TriTech material. This is puncture-resistant and remarkably durable.
Things We Like
Things We Dislike

Adjustable hydrojets
Power-saving timer
Easily maneuverable

No salt water chlorinator
---
10. Bestway SaluSpa Helsinki Inflatable Hot Tub
Features
5 to 7 adults
Round
71 x 71 x 26 inches
The Bestway Store serves up another fantastic inflatable hot tub in the shape of the SaluSpa Helsinki.
This is a spacious tub with enough room for up to 7 people at maximum capacity. Pile in with the whole family to get the weekend started in style.
Programmable water temperature allows you to create the optimum environment for your tastes. There is a simple but effective digital control panel that lets you ratchet the water temperature up to a toasty 104F, giving you a warm and soothing experience even if it's slightly cooler outside.
This model is loaded with 81 jets to massage your body as you float around in the tub, destressing after a tough day.
Inkeeping with all tubs in this class, you get multi-layered TriTech material over an I-beam construction to deliver an inflatable hot tub that's capable of withstanding plenty of punishment without letting you down.
Although the vast bulk of user testimony is positive, we found some complaints about the hot tub powering down after three days of inactivity. Aside from this small gripe, we feel you're getting great value and a reliable, durable inflatable hot tub from a brand you can rely on.
Things We Like
Things We Dislike

Programmable temperature
Intuitive control panel
81 air jets
---
11. Bestway Paris Hot Tub
Features
6 adults
Round
77 x 77 x 26 inches
The Bestway Store has another superb SaluSpa model, the Paris, up for grabs here. Why should you part with your hard-earned money for this inflatable hot tub, then?
The first thing you'll appreciate is the super-simple nature of set-up. You get an instructional DVD bundled – ideal for visual learners – and you should have the tub inflated and ready to roll within 20 or 30 minutes. You won't need a toolkit either.
The outer diameter of this round tub is 77 inches, providing enough room inside for up to 6 people.
You'll be able to take full advantage of the intuitive digital control panel to make temperature adjustments without needing to get out of the water. The water can be raised to a maximum of 104F.
There are some LED lights integrated. These change through 7 different colors to give you a wonderful ambiance when you're easing into the bubbly water after a long day at the office.
With 60 bubble jets, you don't get quite such a bubble extravaganza as delivered by some of the other tubs on our shortlist, but the water will nevertheless feel soothing and stimulating at the same time.
The floor of this tub is robustly cushioned, so your only problem will be not wanting to climb out of this tub once you've sunk down inside.
As with most models, the pump will only run for 72 hours before powering down.
If you're looking for a jacuzzi experience without the expense or the hassle of heading to a spa, installing this inflatable hot tub gives you a flexible alternative that's much cheaper and much more convenient than a permanently-installed tub. Give it a try and let us know how you go. We feel this is one of the best inflatable hot tubs out there.
Things We Like
Things We Dislike

Easy to set up with DVD included
Color-changing LEDs
Cushioned floor

Pumps only runs for 72 hours
---
12. Coleman Milan Plus Inflatable Hot Tub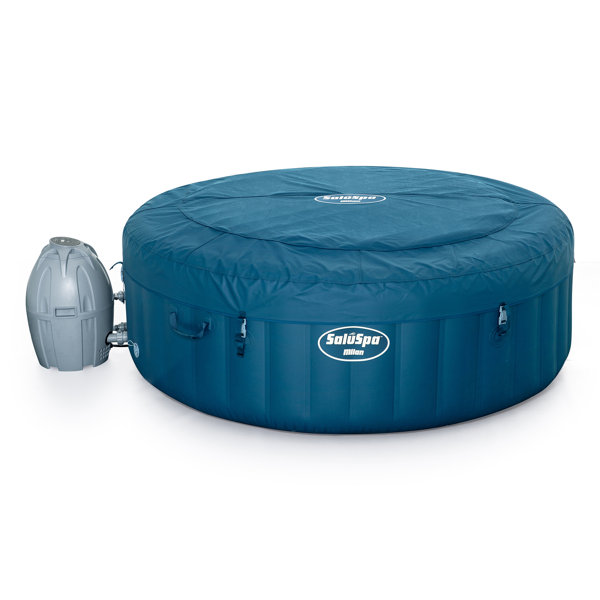 Features
6 adults
Round
28 x 42 x 80 inches
Last but by no means least in our quest for the best inflatable hot tub is yet another entry from Coleman with the Milan Plus. How does this tub differentiate itself in a crowded field?
Firstly, the capacity of this bumper-sized inflatable hot tub is class-leading. You have space for up to 6 adults, so there's room for all the family or guests if you want an impromptu pool party.
You'll find 120 jets evenly distributed over the bottom of this tub, giving you a relaxing yet invigorating experience as the warm water washes over you.
The frame of this tub is solid and you get triple-layered PVC with a core of polyester mesh giving you a robust build all round.
The filtration system is efficient as you would expect from Coleman. You'll not only get jets of water all over, but that water will be crisp and clear, too.
Controlling this hot tub couldn't be easier. Either use the simple control panel or take the helm in-app. You can automate the temperature over a 72-hour period, too, giving you enormous flexibility for much less than you would spend on a permanently-installed hot tub.
Although this is not the cheapest inflatable hot tub out there, it's currently available at an aggressive discount, so act quickly and snatch yourself a real bargain for the looming summer. Let us know how you get on if you treat yourself to the Coleman.
Things We Like
Things We Dislike

80 jets
Smart control in-app
Massage system

Pretty pricey although currently discounted
---
Conclusion
Our aim today was to give you everything you need to know when searching for the best inflatable hot tubs.
While these units may not have the same impact as a home swimming pool, and they might not have the prestige of a permanently-installed hot tub, inflatable models are well worth considering if you're looking for relaxation on a budget.
Stick with any of our top 10 hot tubs in this class and you can buy with a clear overview of the benefits and drawbacks of each tub. If you encounter an inflatable we didn't review, we hope you find our brief buying guide points you in the right direction.
Grab yourself a bargain this summer and treat the whole family to some relaxation at home. Before you head off shopping for hot tubs, be sure to bookmark our blog and pop back soon. Here at Wild River Country, we're your one-stop shop for all things pool-related. We publish fresh content most days, too, so pop back soon!