While bird feeders might be relatively commonplace in gardens the world over, birds need more than food alone.
Beyond seed, birds also need a regular source of clean water, both for drinking and for bathing.
While birds do not have any sweat glands, they lose water through respiration, as well as in their droppings. Most birds need to drink at least twice a day.
Bathing is about more than simply feeling good. Birds dampen their feathers so any dirt and debris is loosened and easier to preen.
With the best bird baths, you can cater for the needs of your feathered friends, even over winter when most of the water elsewhere is frozen.
While some people choose to make their own bird baths, there are many readymade options at your disposal, varying greatly in terms of price, construction, and performance. We're here today to cut through all the confusion and to help you choose the right bird bath for your garden.
We review a wide cross-section of bird baths in many different styles today, but we appreciate you may have absolutely no idea what you're looking for. Fortunately, comparing the best bird baths is pretty straightforward, especially if you keep the following pointers in mind:
Bird safety: Since you're investing in a bird bath with the welfare of wildlife in mind, it makes sense to prioritize bird safety on the buying trail. Look for bird baths with sloping and shallow sides. Rough surfaces are much better than smooth, as they will provide the birds with more traction. According to the Royal Society for the Protection of Birds, the water in a bird bath should be between 1 inch and 4 inches deep to allow a wide range of birds to safely use the bath
Materials: A stone or concrete bird bath is heavy and bulky. These take some effort to shift into place, but once installed you should have no issues with them toppling in heavy winds. This type of bird bath is also quite awkward to keep clean. A ceramic bird bath is weighty enough to stay in place but much lighter than stone. This type of bird bath is usually high-fired to ensure it is as frost-resistant as possible. Resin bird baths are easy to keep clean and also very cost-effective, in addition to looking attractive
Design: You can find bird baths in many different styles, and we review some of each type today so there's something for everyone. A pedestal bird bath is arguably the most common type. The freestanding placement gives you plenty of flexibility, so you can place your bird bath somewhere that birds can comfortably bathe and drink without any cover for predators to skulk in. Hanging bird baths are one of the other most popular options. These couldn't be simpler in terms of both design and execution. Consisting of a dish for the birds to bathe in hanging from a chain, these space-saving solutions are ideal for smaller gardens. The simplicity of the design and build means this is also one of the cheapest bird baths you'll find. You occasionally find ground bird baths. These are nothing more than large and shallow basins you position on the ground. While they make a great bathing solution for large birds like pigeons, smaller birds may shy away due to being too exposed to predators. Some ground bird baths are slightly raised in order to mitigate this issue. Think closely about which of these birds baths would make the best fit for your garden
If you keep these pointers uppermost in mind, you should have no problem at all choosing the best bird bath for your needs.
Enjoy!
---
The 13 Best Bird Baths
1.

Our #1 Pick:

Best Choice Products Pedestal Bird Bath
Features
Material: Polyresin
Weight: 5.65 pounds
Dimensions: 20 x 20 x 28.25 inches
First up and our overall favorite in today's collection of the best bird baths comes from Best Choice Products. This brand has a hard-won reputation for producing great quality houseware and garden ware at very keen prices.
The retro design of this resin bird bath will make a fine addition to any outdoor space, whether traditional or modern.
If you live somewhere with frequent gusts of wind, you'll appreciate the fillable pedestal. Pop some water or sand inside and weigh the bird bath down more fully. Weighing less than 6 pounds, it's pretty lightweight.
Despite the lightweight nature of the resin bath, it's built to resist hostile weather conditions, it's non-reactive, and it shouldn't tarnish or spoil over time either. That said, build quality and lifespan were the only areas in which we found user complaints. The bulk of user testimony, though, is overwhelmingly positive.
Adding a bird bath to your garden will discourage some invasive species, while also helping with soil aeration and the distribution of core nutrients. This is hands-down one of the best bird baths out there to help you achieve this, as well as giving your local birds the chance to stay spotless.
Things We Like
Things We Dislike

Fillable space for weighing down bird bath
Rugged and weather-resistant resin
Simple 4-piece build

Build quality issues reported
---
2. Hanizi Bird Bath
Features
Material: Plastic
Weight: 1.41 pounds
Dimensions: 12 x 12 x 6 inches
Next in line is a simple and lightweight plastic bird bath from Hanizi. How does it shape up, then?
Very simple in design and execution, you get a plastic bowl measuring 12 inches across and 2 inches deep to deliver the optimum bathing environment for birds. They will also find it easy to drink from the bowl.
The mounting system allows you to clamp the bird bath to a fence or decking, and it's easy to shift around when required. The clamp is substantial to grip on decks up to 2 inches thick, giving you plenty of flexibility with placement.
When it comes to cleaning the bird bath – a key part of owning one – you can detach the bowl from the steel rim to streamline this.
While most user reviews of this bird bath are positive, we found a few gripes about the quality of the clamping system.
Weather-resistant and rust-proof, this traditional mounted bird bath is well worth popping on your shortlist.
Things We Like
Things We Dislike

Easy to install
Lightweight and portable
Straightforward cleaning
---
3. Allied Precision Industries
Features
Material: Plastic/acrylic
Weight: 5 pounds
Dimensions: 20.5 x 4.5 x 20.75 inches
If you live somewhere with a colder climate, you might find the water you put out for your birds to bathe in freezes over. Allied Precision offers you the ideal solution in the guise of this heated bird bath that means the wildlife in your garden has access to water even when it's freezing cold outside.
Running on 120 volts of electricity and rated at 150 watts, you'll get ample heat to keep the water from freezing, even in hostile conditions. When the weather isn't quite so cold, the power cable stashed underneath the unit.
While the plastic and acrylic build seems robust enough, a few users complain about the wobbly nature of the bowl. This may or may not prove problematic, depending on the type of birds attracted to your garden.
There is a thermostat baked in ensuring that this unit delivers enough heat on-demand to keep the water running and your birds happy and clean.
The simple and clean design should blend in with almost any garden décor, and although this bird bath is made from plastic, it doesn't look cheap.
When you need to ditch stagnant water from the bird bath, angle it and empty it with ease.
Although this bird bath isn't especially cheap, the hardwearing nature means you should get plenty of value from it over time.
Things We Like
Things We Dislike

Year-round heated comfort for birds
Cord stores easily when not required
Easy to empty stagnant water
---
4. Bits and Pieces Hanging Bird Bath
Features
Material: Glass
Weight: 1.12 pounds
Dimensions: 10.4 x 10.04 x 3.5 inches
Bits and Pieces offers a classic hanging bird bath that looks elegant, but is it a case of style over substance?
Fortunately not! The glass looks great, but it is also pretty durable, so you can expect plenty of service from this bird bath while ensuring the birds stay clean and hydrated all year round.
Choose to hang this bird bath from a stake, hook, or tree, and watch lots of furry friends swooping in to keep their feathers fresh.
One of the only gripes we could find among mainly positive user testimony concerns the coloring of this bird bath drawing in bees. Do you due diligence and perhaps reconsider if you tend to have lots of bees in your garden anyway. This could prove a menace.
If you don't want to use this unit as a bird bath, you could also fill it with bird seed to make a great hanging feeder. However you choose to look after the birds flocking into your garden, this glass hanging bath is well worth popping on your shortlist.
You'll get everything you need included down to the hanging hardware, giving you great overall value from a brand you can rely on.
Things We Like
Things We Dislike

Decorative but hardwearing glass
Hanging chain provided
Spacious feeding and bathing area

Bees are attracted to the bath
---
5. Alpine Corporation Pedestal Bird Bath
Features
Material: Ceramic
Weight: 18.74 pounds
Dimensions: 18 x 16 x 25 inches
Alpine Corporation serves up an elegant yet functional ceramic bird bath that rates a mention.
The antique ceramic is finished in turquoise to blend wonderfully into your garden. Weighing just under 19 pounds, you get a bird bath that is heavy enough to stay in place, but not so heavy that it's a burden to move around.
Finished with a weather-resistant glazing, you'll enjoy plenty of faithful service from this bird bath, and the birds would thank you if they could!
Shallow and wide, the bowl is designed to several birds can take advantage of the bath at the same time. Whether they are drinking or bathing, no bird will be left out.
Once you have positioned your bird bath, you'll appreciate the strong and stable base. This, along with the weighty build, means you shouldn't have any issues, even in the event of gusty winds or storms.
The only complaints we found among a sea of glowing user reviews concerns lifespan, but we feel the overall build is more than robust. Do your due diligence and then decide whether or not this is the best bird bath for your needs.
Things We Like
Things We Dislike

Durable ceramic build
Striking glazed finish
Room for plenty of birds
---
6. Monarch Abode Hanging Bird Bath
Features
Material: Copper
Weight: 2.8 pounds
Dimensions: 11 x 13 x 17 inches
Monarch Abode has a sprawling line of products for the home and garden, including this superb hanging bird bath.
If you don't like the idea of a hanging bowl, you could also opt for a standing bird bath or a deck-mounted model, both from the same brand.
Assuming you appreciate the space-saving benefits hanging bird baths deliver, what do you get for your money?
The stand of this unit is finished with a powder coating, while the bowl is made from hammered bronze. Overall, the look is traditional rather than modern, so think about your garden décor and whether or not this bird bath makes the right fit.
The bowl is 2 inches deep, the perfect height for the bird in your garden.
Coming pre-assembled and ready to hang outside, you're getting one of the best bird baths out there from a brand you can rely on.
Things We Like
Things We Dislike

Powder-coated stand
Hammered finish to bowl
Ideal bowl depth for bird bath
---
7.  Lowe's Concrete Bird Bath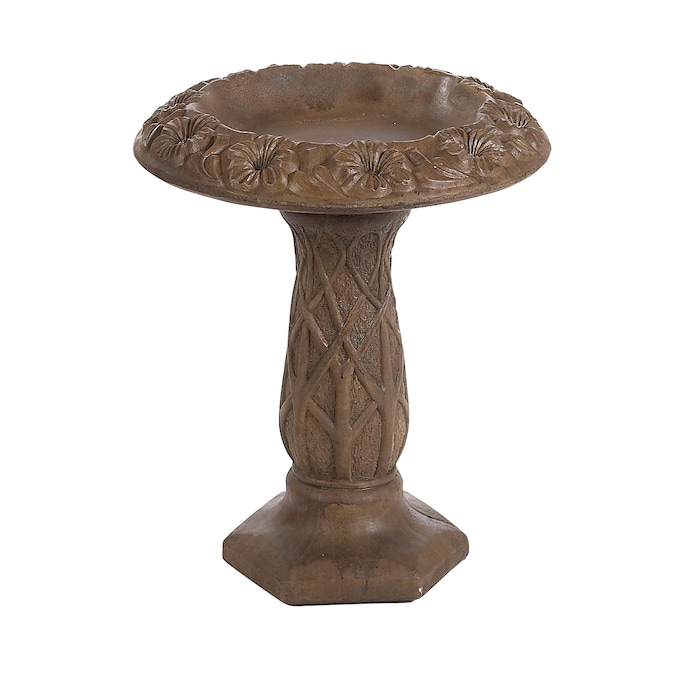 Features
Material: Concrete
Weight: 100 pounds
Dimensions: 22 x 19 x 19 inches
Some people feel there is no substitute for a stone bird bath, and the mighty Lowe's produces a fine example here.
Weighing in at 100 pounds, you'll need to make sure you have some assistance when the bird bath arrives, and you'll need to think carefully about placement. Once it's set up, you won't want to shift this thing around in a hurry.
You can choose from a trio of different designs to suit your yard, with all the bird baths boasting the same concrete construction. For some reason, Lowe's only extends this offer in-store, so if you are buying the bird bath online, you'll need to take pot luck.
Measuring 22 inches across, this is one of the most generous bird baths when it comes to capacity. If you have a garden packed with flying friends, they will appreciate the spacious bath and drinking reservoir.
As a final kicker, you'll pick this model up for much less than you would pay for many competing concrete bird baths, so why not snatch yourself a bargain?
Things We Like
Things We Dislike

Utilitarian aesthetics
Works well on patio or in the yard
Choice of 3 designs

Extremely heavy bird bath
---
8. VCUTEKA Hanging Bird Bath
Features
Material: Glass
Weight: 5.65 pounds
Dimensions: 12.6 x 12.56 x 3.43 inches
Many people want a bird bath that places design uppermost, and this hanging glass beauty from VCUTEKA meets that demand head-on.
Made from a high-grade and weather-resistant glass and reinforced with metal, the key selling point is the striking peacock motif. Even if you don't live somewhere with a tropical climate, you can inject some color into your outdoor space.
An S-shaped hook allows you to mount this hanging bird bath just about anywhere without worrying about it taking a tumble. The chain attaches in 3 separate places to ensure a snugger fit.
The glass bird bath couldn't be easier to clean, and as an inbuilt bonus, this bird bath serves double duty as a bird feeder.
With the exception of some minor complaints about issues with the chain developing over time, almost all user reviews of the bird bath are positive.
If the design of this bird bath doesn't appeal, the manufacturer offers a range of alternatives well worth exploring.
Things We Like
Things We Dislike

Vibrant peacock design
Super-simple to clean
Weather-resistant build
---
9. Campania International Concept Bird Bath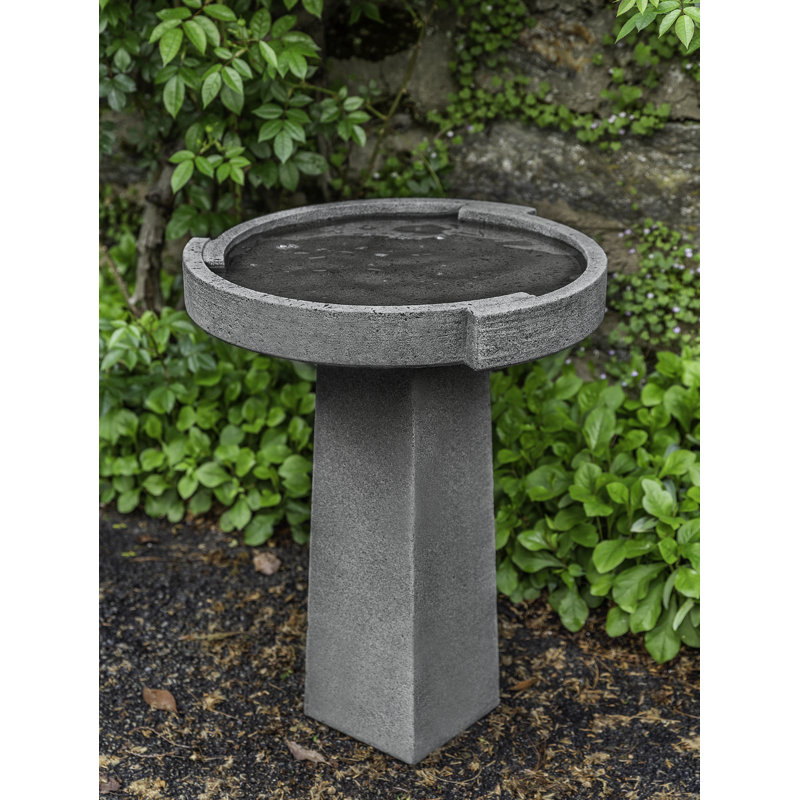 Features
Material: Concrete
Weight: 104 pounds
Dimensions: 24 x 19.25 x 19.25 inches
Next up comes another concrete bird bath, this time an extremely expensive offering from Campania International. If you're shopping for budget bird baths, this is not for you. For anyone prepared to dig deeper for a bird bath that will stay the distance, read on.
You can pick between 4 different finishes, all made from the same rugged concrete. As with the bird bath above, this beast weighs in at over 100 pounds, so make sure you have some help to angle it into place.
Made from a high-density cast stone, the patina of each piece is applied by hand, going some way to justify the exorbitant cost.
There are plenty of cheaper bird baths at your disposal if you're shopping mainly based on the bottom line, but if you don't mind paying more for handmade quality, we're confident you won't be disappointed.
Things We Like
Things We Dislike

Multiple designs
Hand-applied patina
Remarkably hardwearing
---
10. Plow & Hearth Northwoods Sitting Moose Bird Bath
Features
Material: Carved resin
Weight: 5.65 pounds
Dimensions: 17.25 x 15.25 x 22.75 inches
As you will see from our entries so far in today's search for the best bird baths, most of these things look broadly similar. That's not the case with this wood-look carving from Plow & Hearth Northwoods, so what do you get here?
The bird bath is made to resemble a huge moose, with the design tending to polarize opinion. Some users feel the shape puts birds off using the bath, while others sing its praises.
You can use this bird bath for its intended purpose, or you could also use it as a feeding station.
The hand-painted resin looks like wood but responds better to hostile weather conditions, and you should enjoy one of the best bird baths out there without needing to consider any tedious maintenance.
The moose is reasonably bulky, so we feel it would work best in mid-sized or larger gardens. If you have a smaller outdoor space, we review plenty of more compact bird bath solutions.
Things We Like
Things We Dislike

Commanding moose carvings
Looks like wood but longer-lasting
Zero maintenance required
---
11. Liffy Hanging Bird Bath
Features
Material: Glass
Weight: 1.19 pounds
Dimensions: 8.1 x 8.1 x 15 inches
As we near the end of our showcase of the best bird baths, we have another hanging model, this time from Liffy.
The delicate glass bath comes in several arresting designs, including this tropical flower finished in a bright pink and yellow.
A robust steel chain ensure the bowl has more than enough support, even with several birds using it.
The design of the dish – the shallow edges in particular – makes it remarkably easy to keep this bird bath clean. If you decide to add one of these to your garden, regular cleaning is key.
For anyone overwhelmed with feeding birds at certain times of the year, you can easily press this bird bath into action as a makeshift bird feeder, too.
The only real gripes we could find among plenty of positive user reviews concerns the minimal capacity of this bird bath, so it makes a smoother fit for small and quiet gardens.
Things We Like
Things We Dislike

Attractive addition to garden
Cute tropical flower design
Easy to keep clean
---
12. Evergreen Hanging Bird Bath
Features
Material: Glass
Weight: 1.87 pounds
Dimensions: 23 x 11.25 x 11.25 inches
As we edge to the end of our bird bath reviews, we have an eye-catching hanging model from Evergreen. How does it shape up, then?
The first thing you'll appreciate is the artisan glass bowl finished in a muted pink and blue.
As with all the best glass bird baths, you'll find this one couldn't be easier to keep clean. As a nice extra, you can also use this bath as a makeshift feeder in high-demand periods.
Hanging from a 20-inch chain, you can rest confident that the steel chain will easily support the weight of the bird bath and any birds inside. Be careful when you're handling the chain, though, as a few users report rough burrs capable of cutting your fingers.
Highly resistant to both rust and hostile weather conditions, you're getting one of the best bird baths out there, and it's also one of the best looking options up for grabs.
Things We Like
Things We Dislike

Doubles up as a bird feeder
Rust-resistant and weather-resistant
Artisan glass bowl

Some snags with chain reported
---
13. Bird's Choice Stonecreek Waterfall
Features
Material: Waterfall rock
Weight: 2.95 pounds
Dimensions: 7 x 5 x 5 inches
Last in line is another bird bath with a difference, this time made from a waterfall rock.
You should be clear before committing to purchase that this rock works best when you pop it inside an existing bird bath. See which of the models above makes the right fit for you.
As long as you have 0.5 inches of water or more in the bird bath, the pump will keep on circulating the water, preventing it from becoming stagnant.
To add even more to your bird feeding and bathing area, consider investing in this waterfall rock from Bird's Choice.
Things We Like
Things We Dislike

Circulates water efficiently
Stops water going stagnant
Elegant aesthetics

Motor is reasonably noisy
---
II. FAQs
1) Why should I consider buying a bird bath?
Just like all animals, bird needs a continuous source of water. They need to drink and bathe, and a bird bath allows them to achieve both. By adding one to your garden, you'll not only make the birds happy, but you could even encourage more birds into your outdoor space.
2) What size should a bird bath be?
This depends on how many birds you want to attract, and what type of birds you are interested in attracting. The shallower and smaller the bird bath, the less diverse the species it will attract. That said, small birds may struggle with large, deep bird baths. More than 1 inch of water could prove too much for smaller birds. To combat this, some bird baths are designed with shallow edges and a deeper center.
3) When do I need to put out my bird bath?
Ideally, keep the bird bath in place year-round. If you live somewhere with freezing winters, ensure you get a bird bath designed to cope with these conditions.
4) Where should I position my bird bath?
You could pop your bird bath anywhere and birds will still find their way to it. Most birds prefer baths placed in the open, ideally close to some small trees or shrubs. Many people like to place a bird bath near a bird feeder. This is not a bad move, as long as you ensure none of the seed falls into the water. Other bird baths are designed to hang from windowsills, while others are intended to be mounted on decking.
5) How can I stop the water in my bird bath from freezing?
With many natural sources of water freezing over in the winter months, it's more important than ever to ensure that the birds in your garden have access to water. One handy hack is to add a ping-pong ball to the bird bath. The ball should be light enough to float around, and this circulation should be enough to keep at least one area of water ice-free. You could also try using a polythene sheet to line the bird bath. If you see the water freezing, simply remove the sheet along with any ice. The other option is to pour some hot water onto the ice. Never use any chemicals, though, as anti-freeze and similar are liable to damage birds' feathers, and possibly even poison them.
---
III. Conclusion
For anyone who arrived here at Wild River Country today with no idea about how to compare the best bird baths, our brief buying guide should have changed that.
If you stick with any of the glut of bird baths we review today, you should be ideally positioned to buy with your eyes wide open.
Before you head off today, bookmark our blog. We bring you fresh content daily on all aspects of the outdoors and garden, including swimming pools and hot tubs. Pop back soon and don't miss out!